Designing Prolific X Salon App
Research - Design - Testing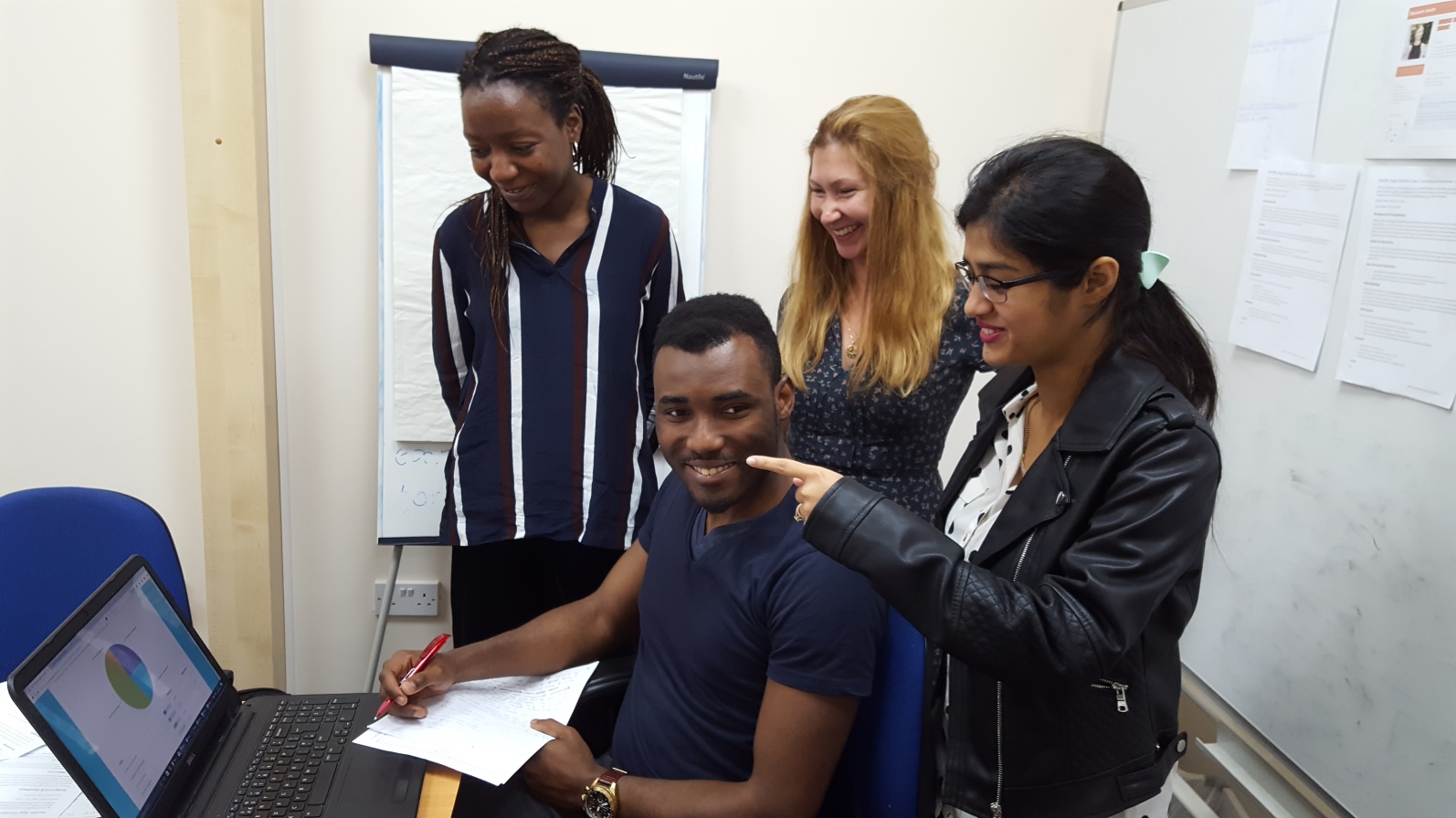 Status: In Development
Time to Prototyping: 8 weeks
Co-Designers: Olesya Ma, Ann Oduwaiye, Naman Varma, Penny Hung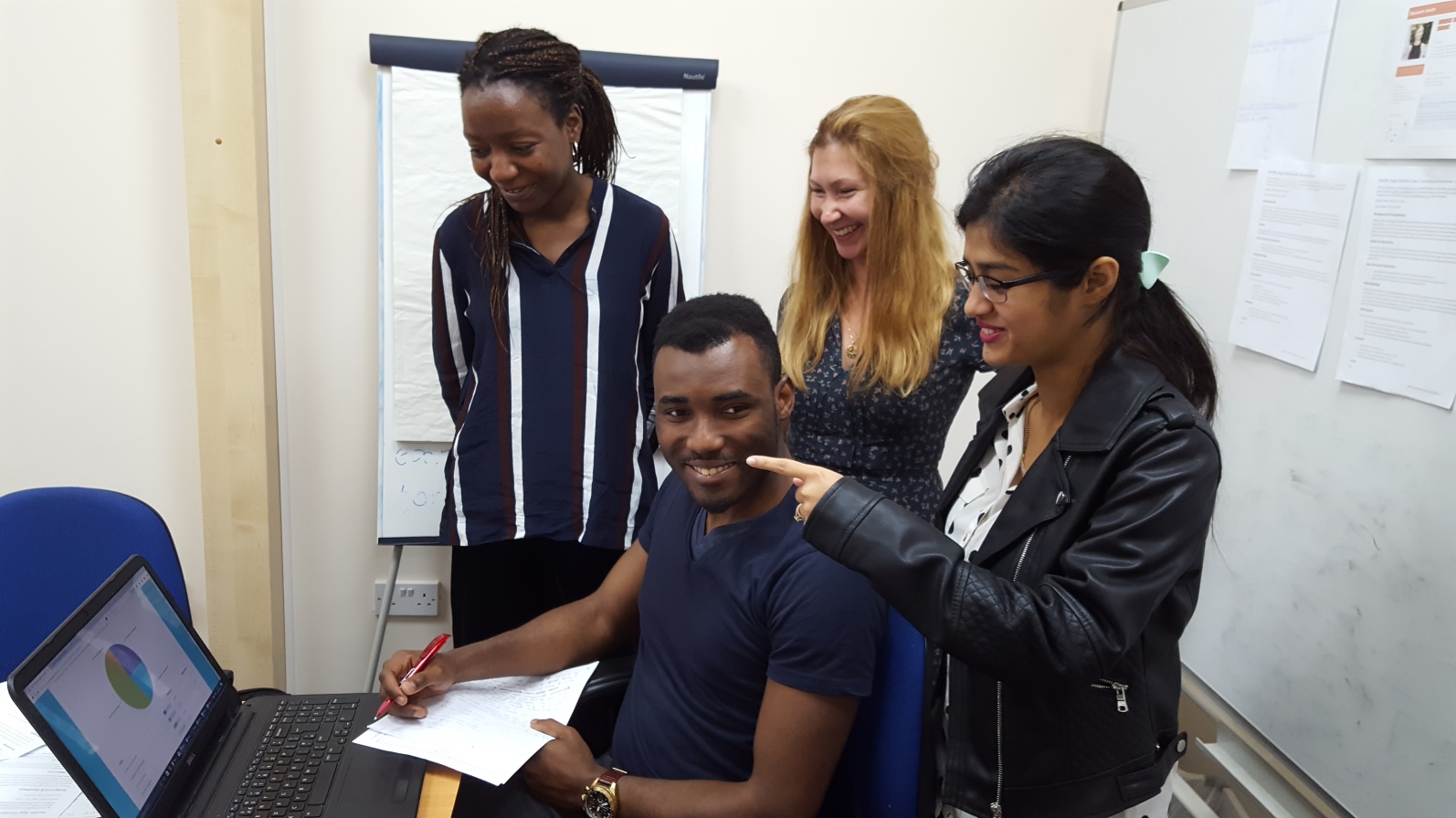 Status: In Development
Time to Prototyping: 8 weeks
Co-Designers: Olesya Ma, Ann Oduwaiye, Naman Varma, Penny Hung

Overview
The team at YMV Tech, a digital agency in London, was tasked with developing a hair & beauty salon app from scratch for a startup client. The proposal intended to have it available for iOS and Android smartphones so a strategic approach was taken to design for the iOS at first and make a blueprint from it for the Android version.
The team size was 9 including myself as the UX Lead and Product Manager, 4 Junior UX Designers (co-located), 2 Visual Designers and 2 Developers (remote). The project adopted an Agile approach through 3 distinct phases of product discovery, design and development.
The UX design process iteratively involved:
Research
Ideation
Wireframing
Prototyping, and
Testing
The team employed the following techniques to accomplish the aforementioned process:
Stakeholder Interviews
Competitive Analysis
User Interviews
User Persona Profiling
User Survey
Quantitative Analysis
Affinity Diagram/Experience Mapping
Card Sorting
User Stories & Scenarios
User Journeys & Storyboards
User Flows/Story Mapping
Design Studio
Brainstorming
Brainwriting
Paper Prototyping
Sketching & Wireframing
Visual Design
Hi-Fi Prototyping, and
Usability Testing
We used the following tools to aid our work for efficiency, better communication and collaboration with stakeholders:
Google Sheets & MS Office
Survey Gizmo for survey
Whiteboard for experience mapping
Xtensio for user personas
Trello for coordination & project management
Slack for communication & team management
Draw.io for mind mapping
OptimalSort for card sorting
StoriesonBoard for story mapping
Pen & Paper for sketching
Balsamiq for wireframing
Everyday items for paper prototyping
Invision for high fidelity prototyping
Adobe Photoshop for visual design & mockups
---
Research & Discovery
The discovery stage kicked off with interviewing the project client as a key stakeholder to elicit product requirements, capture and understand their idea, needs and concerns. This led to the creation of the Requirement Document which served as a living document to guide the team and keep other stakeholders in the loop.
Following a product brief, we decided to gain a good understanding of the industry and seek to fill our knowledge gap the fastest means possible by way of competitive analysis. The technique provided us with market research data by helping to identify the market segmentation, competitors - direct & indirect, the key players, their strengths and weaknesses, and then enabling us to uncover opportunity gaps.
Partially equipped with the research findings obtained from the competitive analysis by synthesizing the data into unmet needs and key questions, individual preconceptions and new assumptions were triggered within the team about the beauty industry.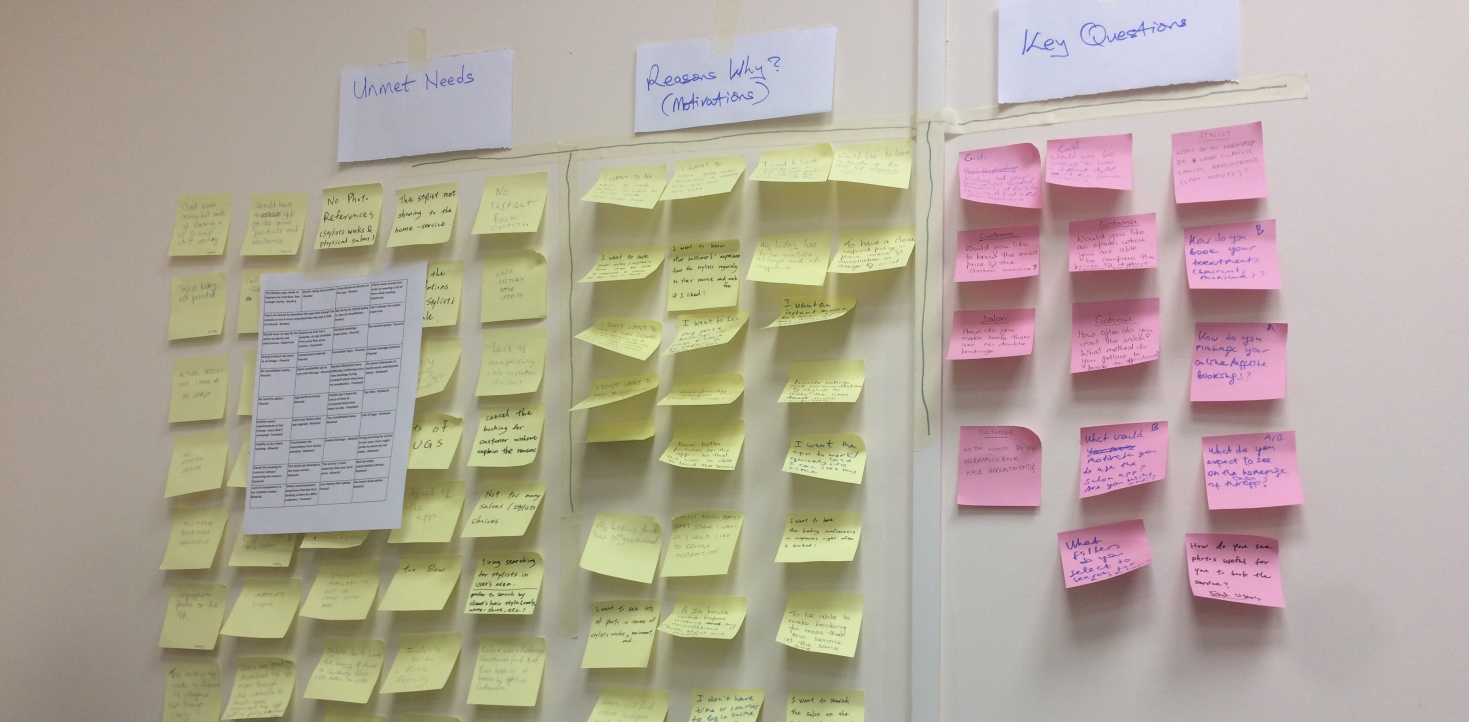 Hypotheses
Some of the hypotheses generated at the time were:
Hair & beauty salons inevitably record high amount of inactive periods at certain times on week days, thus may find a service that offers the opportunity to increase traffic at all times even at the expense of reduced revenue valuable.
Low end salons or service providers fail to adopt salon apps because they fear they (apps) don't represent their economic and legal conditions.
Frequent cancelation of online bookings by customers and no shows make stylists less confident in booking systems.
Giving hair and beauty stylists more control of their trade will engage them more with the app.
Hair & beauty customers are less inclined to change salons or stylists thus might have less need for a salon app.
The need to validate these assumptions was crucial while at the same time we were faced with very limited resources such as time and budget, so it was important to put the available resources to effective use. We thought research was required and a tactical decision was made to apply a qualitative method to researching the vendor-users (service providers) being a subset of the target audience, and a quantitative method by survey to gain insightful data from the client-users (salon customers) as the other audience subset.
Objectives
I drafted two different research plans to study the vendors (qualitative) and the clients (quantitative) with the formulation of 3 research questions for each methods which would later aid formulating more sets of sub questions to research the participants with.
Research Method 1 > The Vendor-User Interview Key Questions:
How effective has past deals and promotions been to your business?
How often and when do you have quiet/inactive business hours during the week?
What would be of importance to you on a booking system?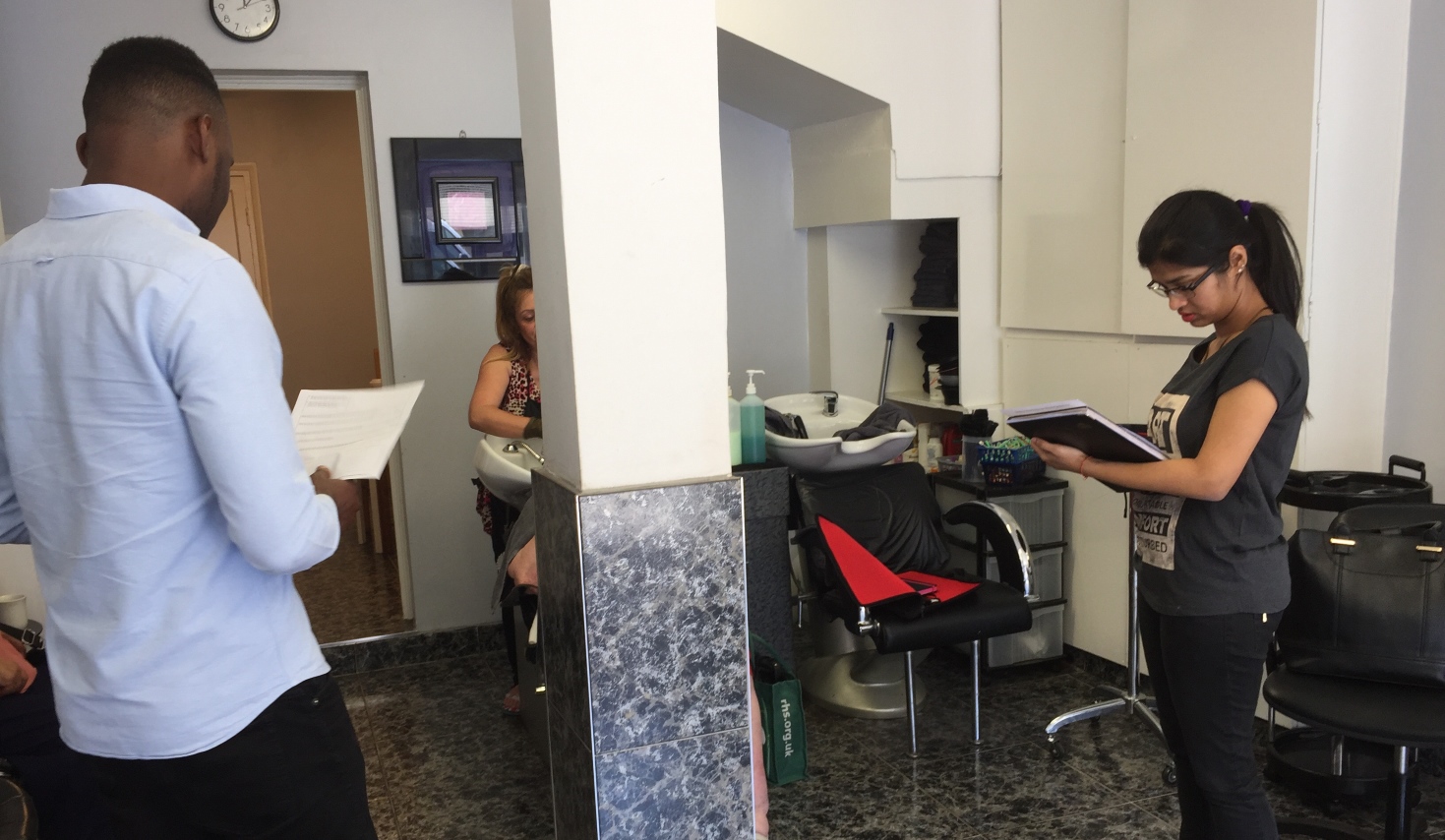 Our main goal with the vendor research objectives was to understand possible incentives to engage and empower stylists more.
Research Method 2 > The Client-User Survey Key Questions:
How open are you to receive treatments from no particular stylist?
What would motivate you to use a salon app?
What would be of importance to you when choosing a salon/stylist from a pool of others?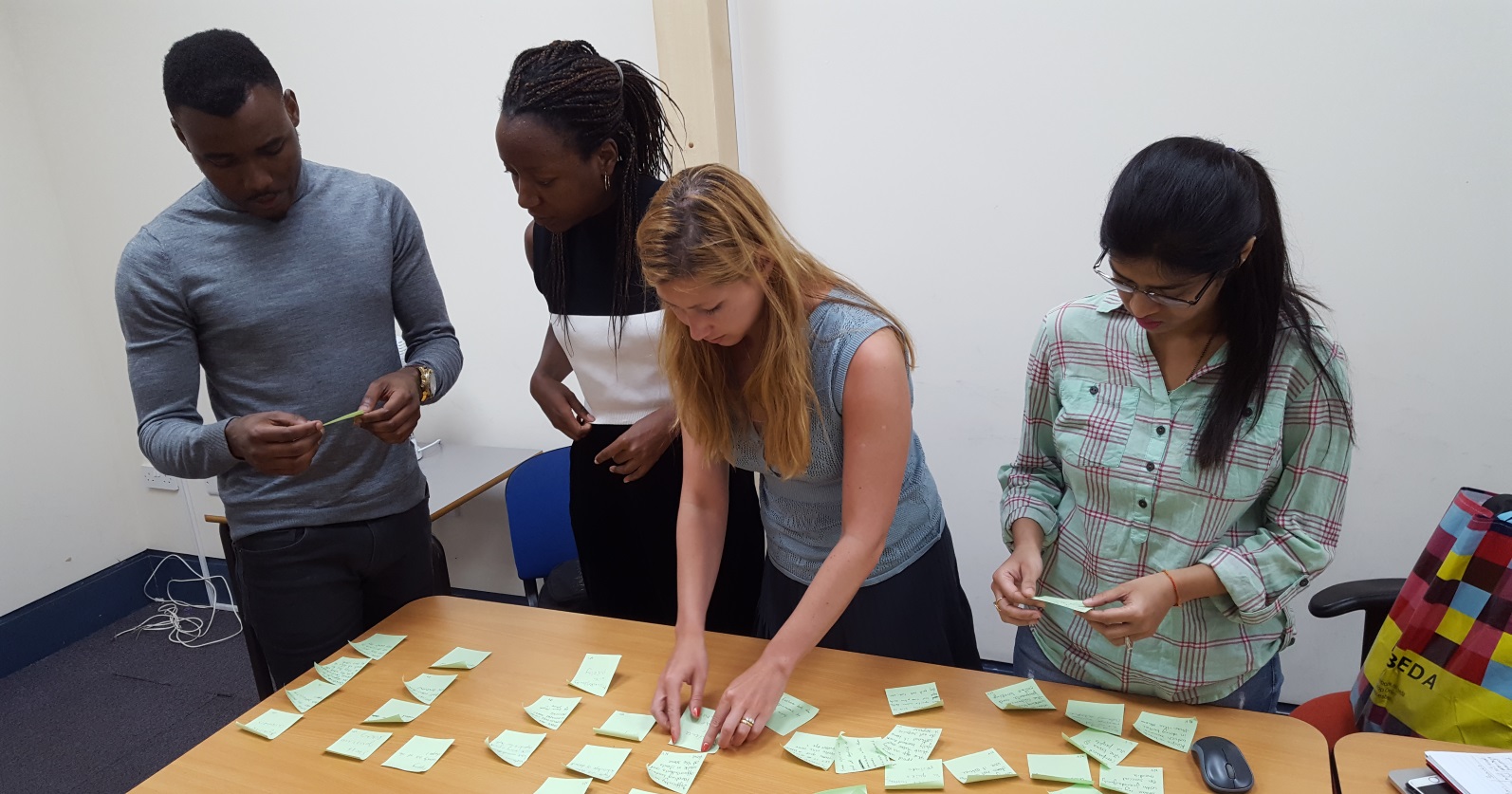 Outcome
Both research methods gave us further insights about the industry as well as the stakeholders, thus enabling us to validate and invalidate our initial assumptions that formed the research hypotheses. For example, we could uncover that the industry has many undocumented migrants as independent stylists who might perceive an app tailored for them differently or useless with the assumption that attaching a bank account and paying tax would be a necessity. We could also invalidate the assumption that all stylists or salon would be readily willing to offer deals for increased business. The customer survey on the other hand revealed to us that majority of people will be more inclined to change salon or stylist based on recommendations, convenience to home or work, and pricing. Also people usually book hair or beauty services over the phone.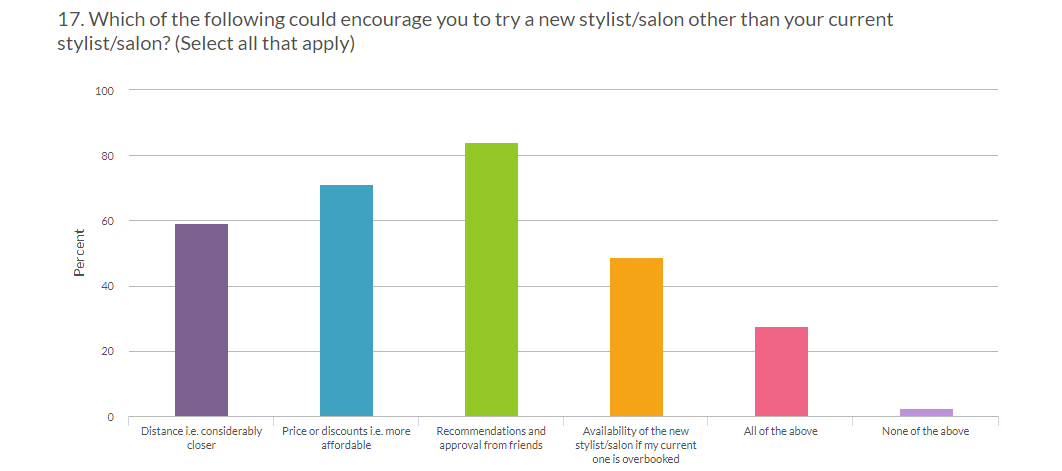 Although insightful, the survey finding has low confidence level considering the small size of respondents (under 100) surveyed.
User Personas
The research findings also informed our opinions about the user demographics, their archetypes, motivations, pains and frustrations which we fed into the personas. Initially, as many as 6 different personas were profiled but as the product strategy and design direction became clearer, it was important to design around as few personas as possible to eliminate value ambiguity, so we reduced the personas to 3 distinct user subsets which became our primary personas, and a secondary fourth persona.
The primary personas include:
Victoria the salon manager
Victor the independent stylist
Diana the busy customer

And a fourth,
Gary the employee stylist (secondary)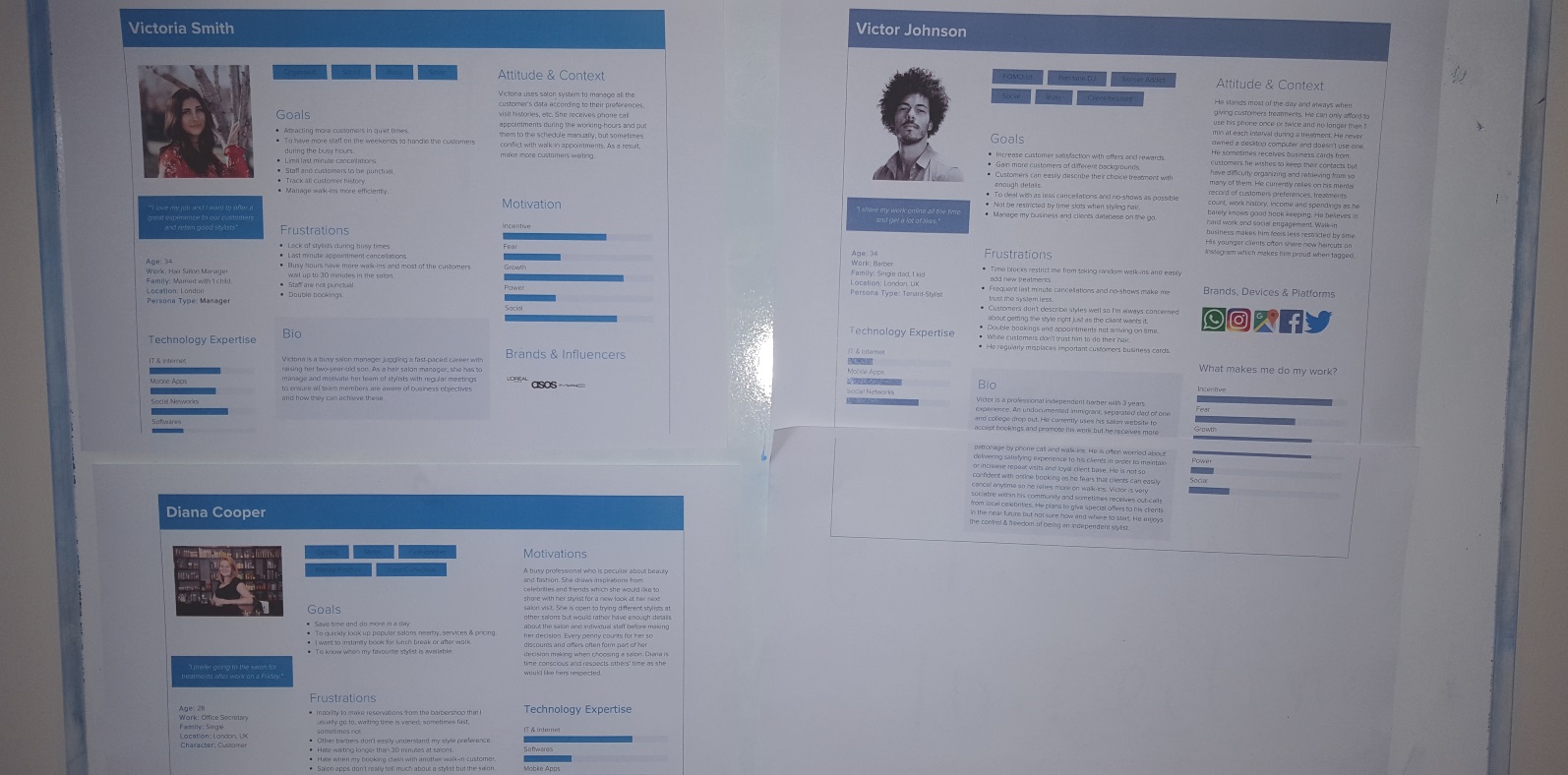 Rationale & Outcome
The personas enabled us to identify who our core users would be, then humanize and empathise with them rather than design a product for everyone as customers or all salon operators as vendors. It didn't take long before these personas became the subject of everyday conversation within the team. Not only did I advise team members to develop a persona each, I also oversaw the fusion and later assigned an ambassador to each of the final personas while I managed them (ambassadors). This helped to ensure that each persona was well represented during any decision making process.
Information Architecture
Synthesizing the research data further, I led the team from generating user stories to conducting workshops on affinity diagram to map user pain points, questions, motivations and expectations based on the relationships between data sets. This aided our requirement gathering by extracting tasks that would enable users reach their goals efficiently and effectively, then futher pre-sorting, by method of card sorting, the tasks into related categories to ensure we design an intuitive system that supports findability and easy access to resources relevant to the user.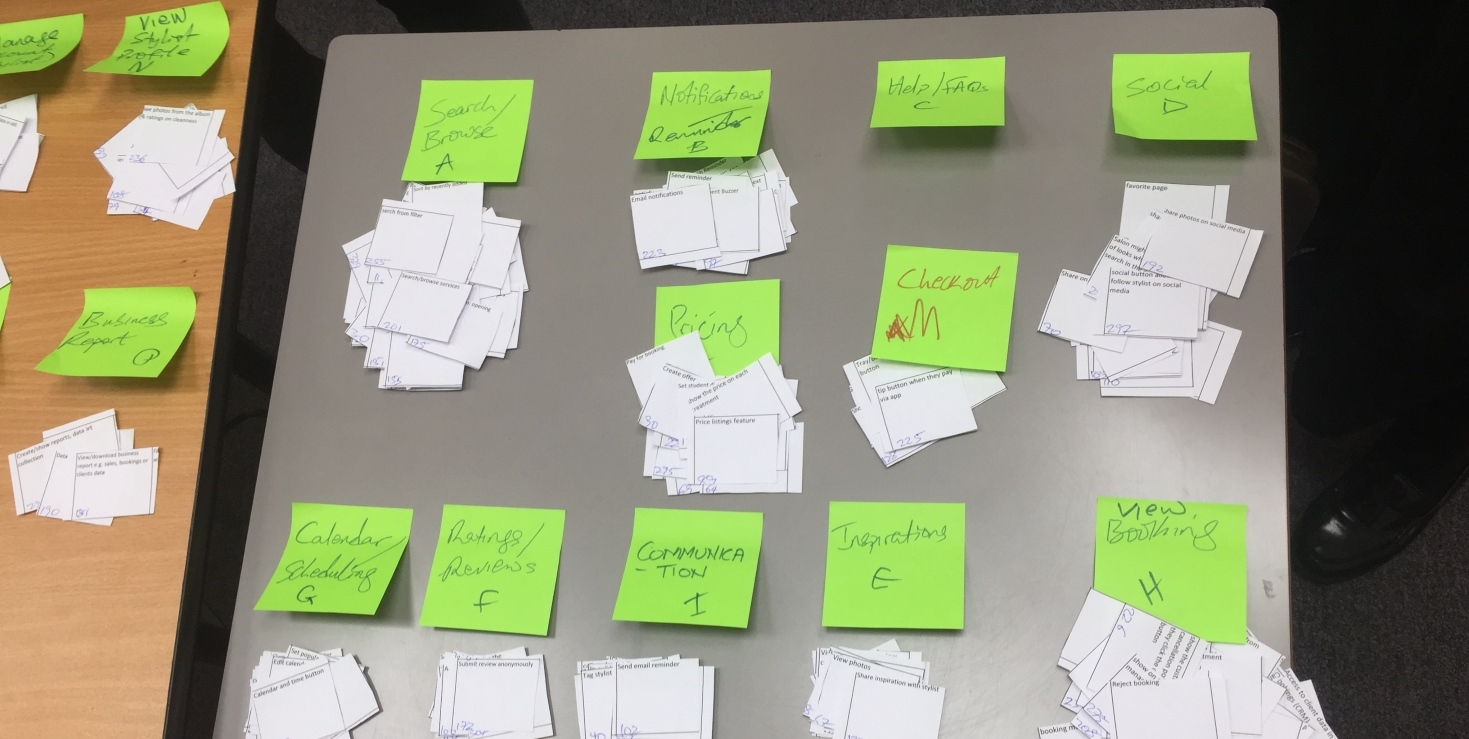 Furthermore, we drafted different scenarios for the personas in order to understand possible work flows and context of use to reach major goals, while at the same time developed user journeys to capture potential issues for every use case. Having done this, I conducted another whiteboarding workshop with the team to create story maps that would lay out the work flows. I took this activity a step further with the team by onboarding them on StoriesonBoard.com, a useful online tool for collaborative story-mapping, as the need for space and flexibility grew.
Outcome
The digital tool saved us time and space compared to the conventional method. Also by working collaboratively anywhere and anytime, it allowed us mobility and the flexibility to easily revisit any work flow for revisions without the physical location constraint. The story map technique proved useful for ideation as we based our objectives on the goals (row 1), steps (row 2) and tasks (row 3+) laid out for the workflows.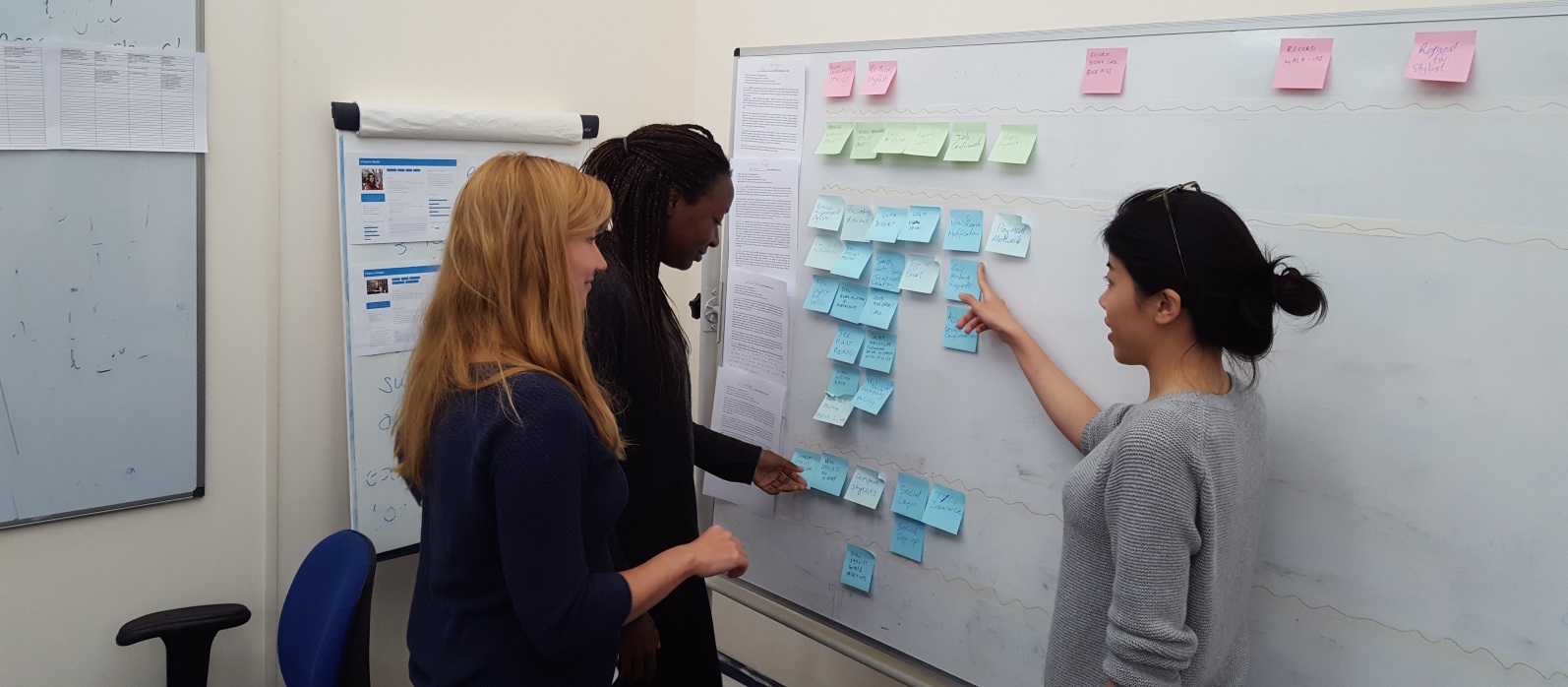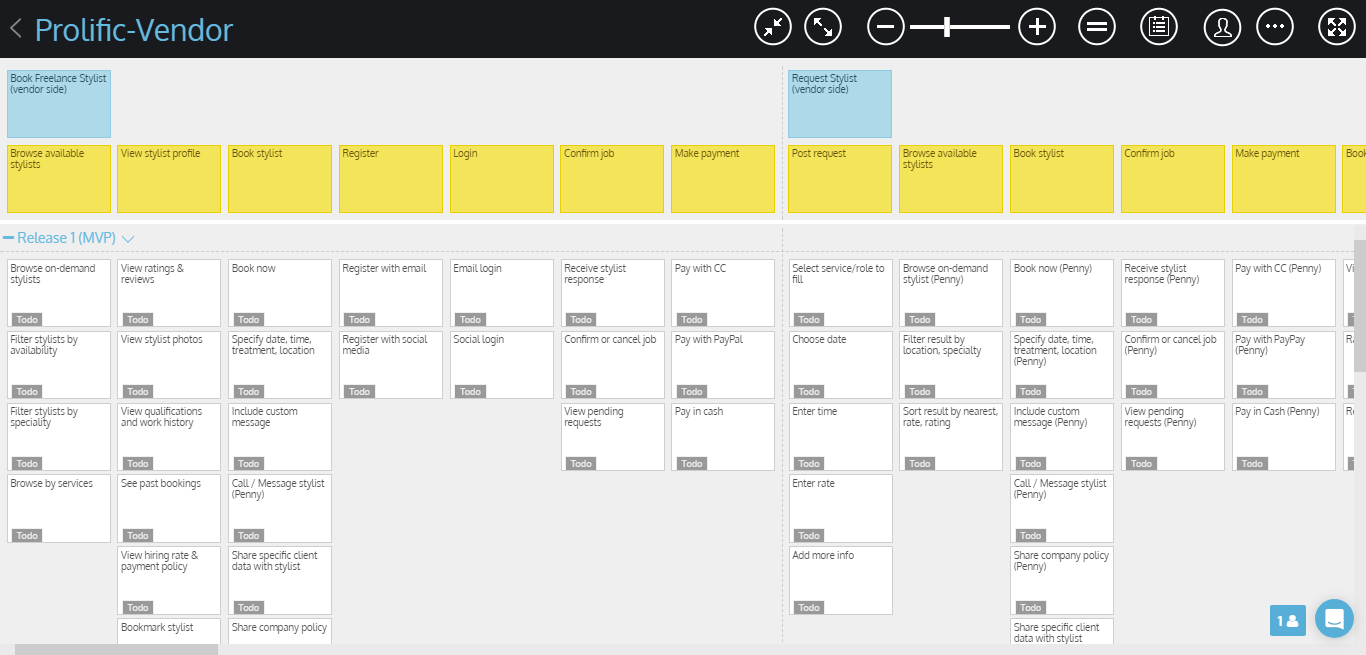 ---
Design & Testing
Ideation
I organised and coordinated different ideation sessions with the team by applying double barrel methods of brainstorming and brainwriting followed with design studio and brainstorming for optimal creativity in suggesting, exploring, refining and communicating ideas.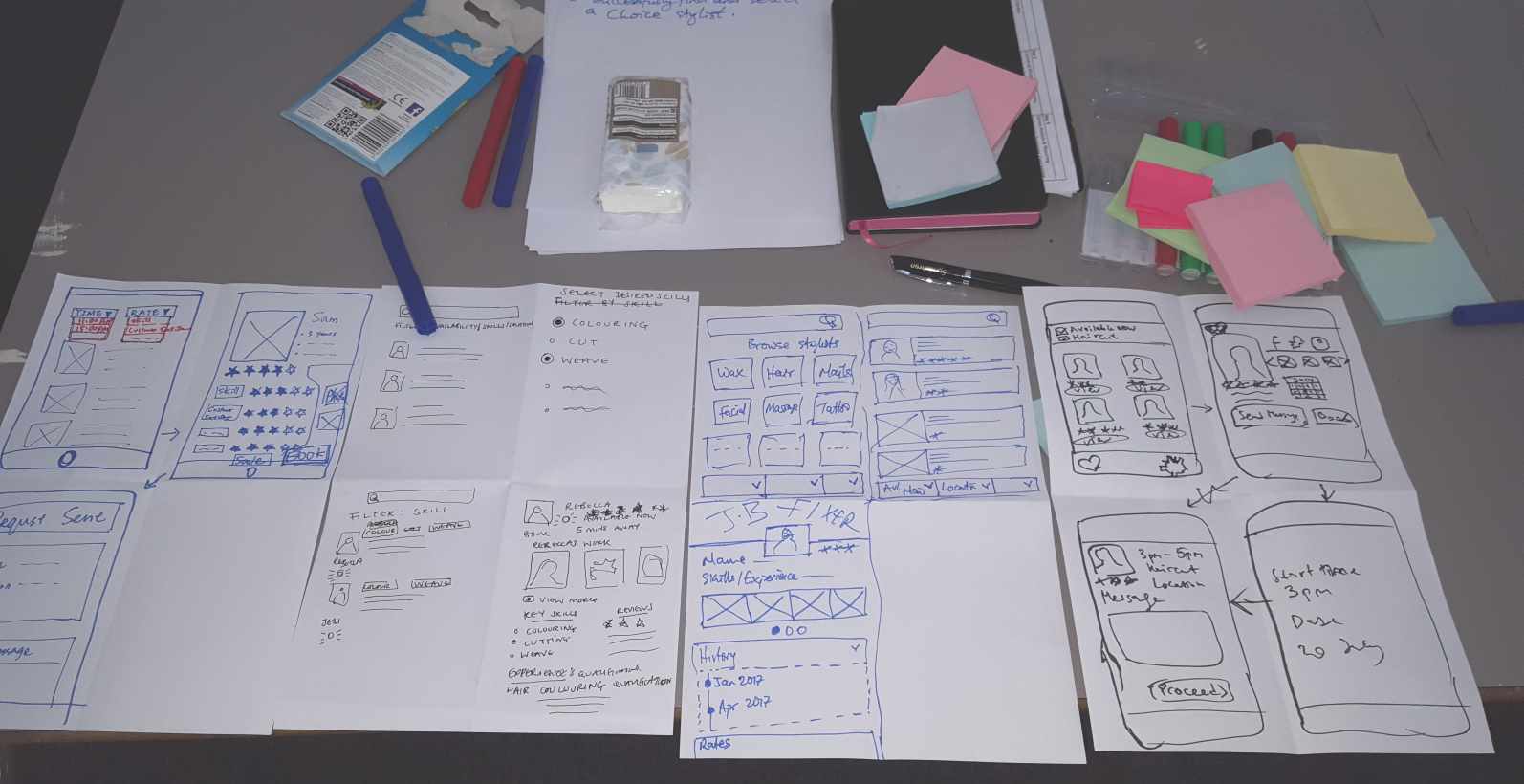 Usability Testing
The ideation process took us through iterative stages of sketching and paper prototyping with the vendor-users to ensure that we were designing a product that actually solves their needs. We used both Victor (the independent stylist) and Victoria (the salon manager) personas to recruit participants. The feedback obtained from them enabled us to refine our sketches.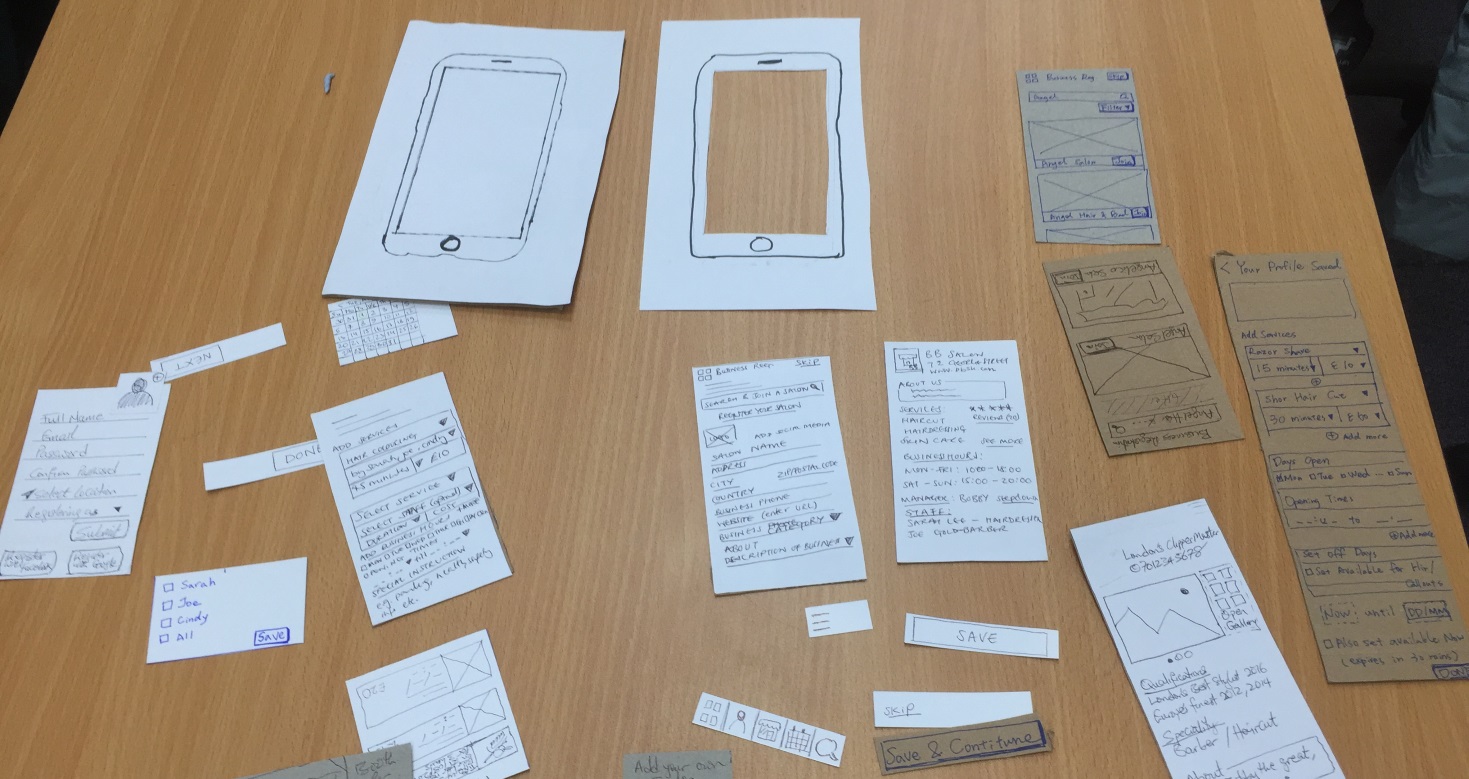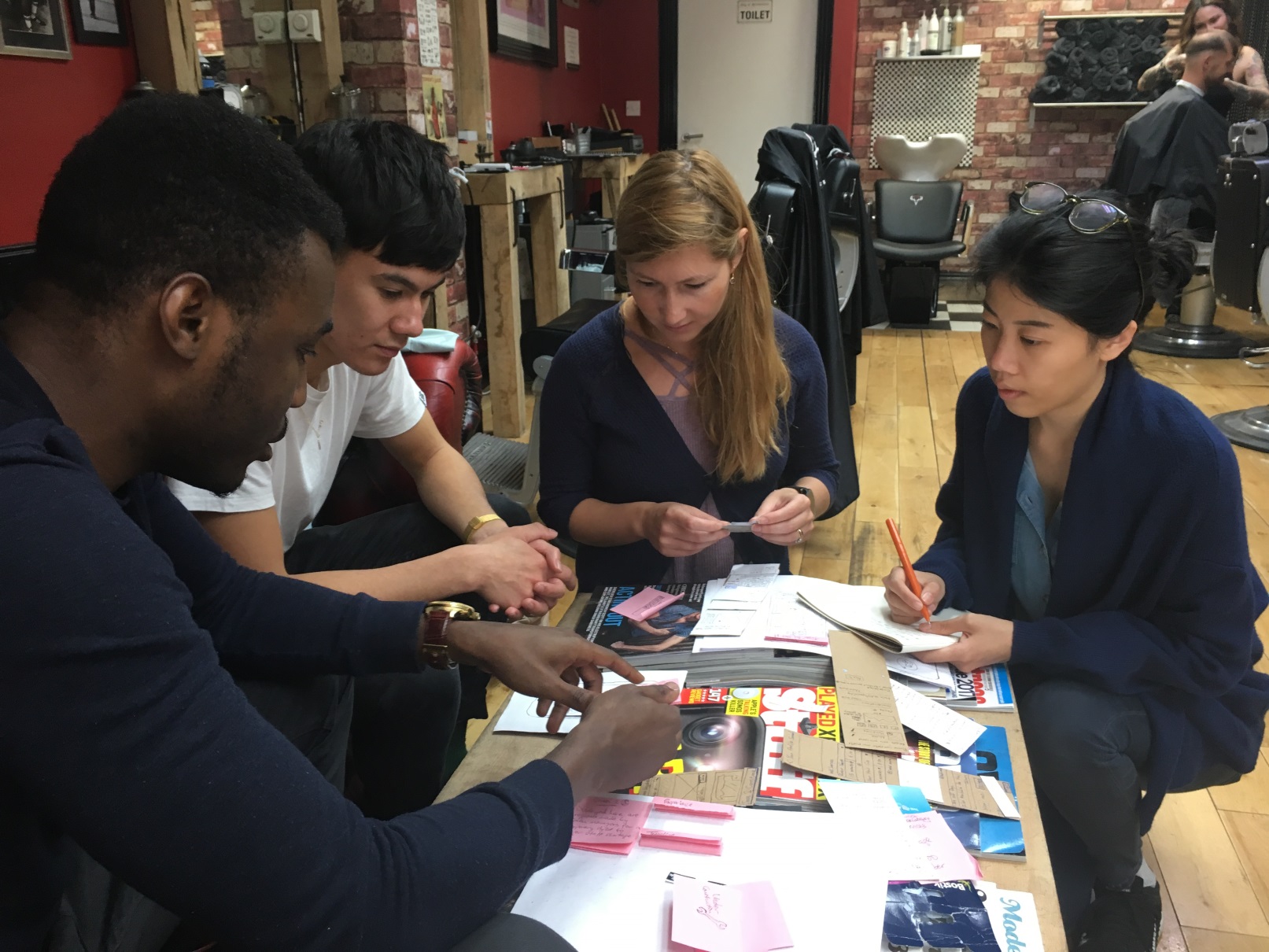 Interaction Design
We used Balsamiq for wireframing by going from sketches to creating a higher, yet low fidelity interface layouts. Not only did we use wireframes to communicate ideas with internal stakeholders, I also used them to present designs to the project client in a more concrete way by focusing on design structure and interaction without going into detail on aesthetics.
Outcome
The early feedback we got from the sketches and rapid prototyping informed and guided our design the cheapest and fastest possible means. It helped the team to become less attached to their ideas and creations but more open to modifying, adapting or eliminating some of them as required. Also, wireframing allowed us to easily capture possible navigations between interfaces that would be necessary to demonstrate in successive richer prototypes.
---
Conclusion & Takeaways
As at the time of documenting this case study, we've commenced with the visual design using Adobe Photoshop and we intend to simulate the produced mockups with Invision, then conduct more usability testing sessions with representative participants of both user groups. The Sketch app is also being tried and tested by the Mac users in the team for evaluative purpose only.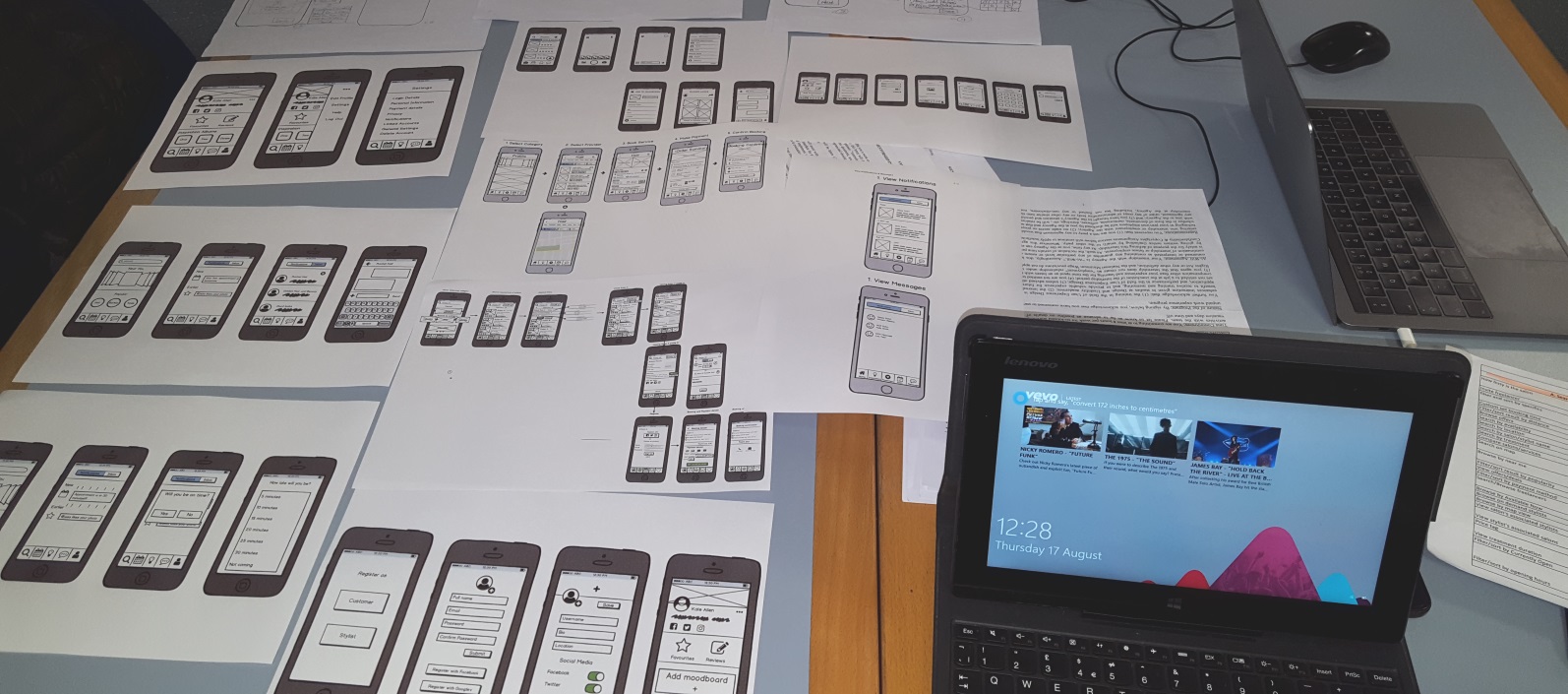 Update 1 @ 22-Sep-2017
All the wireframes have been successfully reproduced into polished pixel-perfect mockups with new adjustments made. I worked closely with the visual designer to achieve this by defining and sharing the UI spec with him alongside the wireframes and other relevant design artifacts not initially available to him so that he understands the end-to-end user experience of the product. Also, to encourage room for creativity, I gave the designer as much authority as required to modify any wireframe where necessary and with a practical backing for any decision. This helped by allowing the UX team optimise their work even further and to also identify new considerations worth validating. Equipped with the mockups, I could then simulate a prototype using InvisionApp for further testing.
The following image represents some of the outcome of the low-high fidelity design process.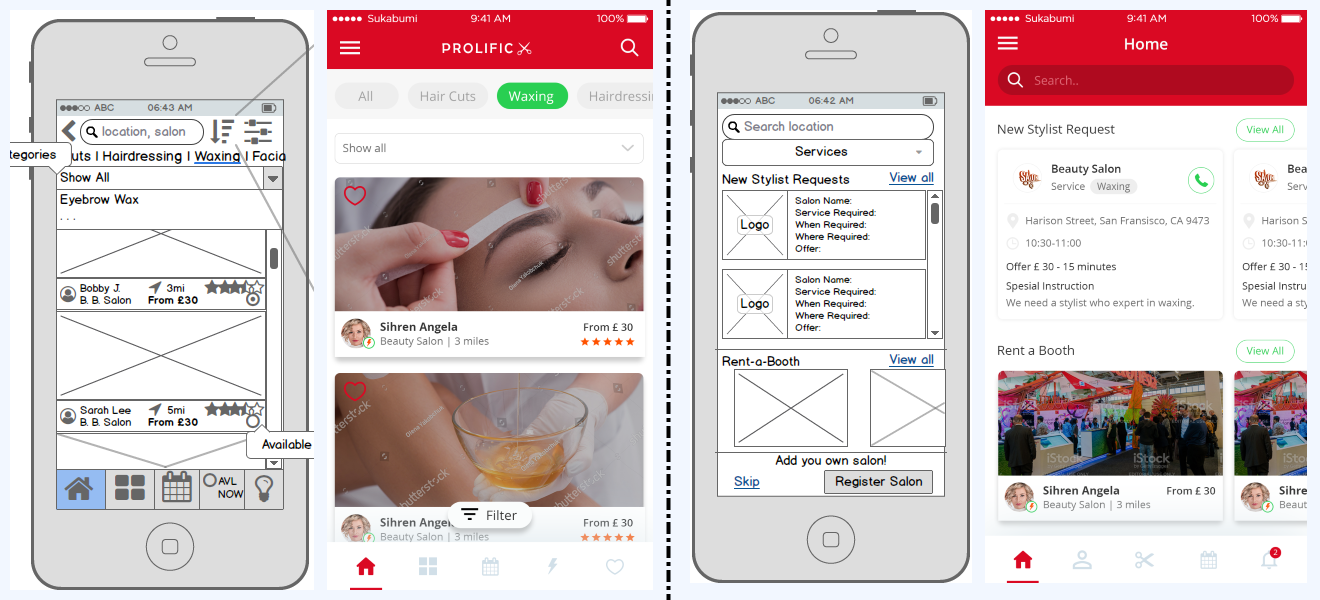 Branding
I had several meetings with the project client to explore and obtain new requirements, so by understanding their branding needs such as the urgency of having marketing materials prepared early on, I went ahead to sketch different logo variations, flyer and banner design. Once the client made his selection, I went ahead to oversee the polished design by a graphic designer. The finished design left the client very pleased.
The product landing page developed by myself is situated at www.prolific-x.com. Thanks for reading!